Diving Courses
PROGRAM
DAYS / DIVES
PRICE
1 Day / 2 Dives
4,500 Baht
2 Days / 2 Dives
7,500 Baht
3-4 Days / 4 Dives
12,500 Baht

2 Days / 5 Dives
2 Days / 5 Dives

10,500 (include trip)
6,000 + trip cost
1 Day
5,500 Baht
2-3 Days
10,500 Baht
21 Days (Minimum)
35,000 Baht
Included :
Equipment rental (all courses except Dive Master)
Certification fees
Boat dives (sorry... we don't do beach dives)
Lunch on the boat
Not Included :
Required Student manuals (the cost depending on course)
Cost of required Passport Photos
Lunch on Class-room days
Discover Scuba Diving

The PADI Discover Scuba / Discover Scuba Diving programs let you experience the thrill of diving under the supervision of a PADI Instructor in pool or pool like conditions, such as those found at a resort. During your adventure, you'll master some basic concepts and scuba skills and might even head off on an open water adventure.
PADI Scuba Diver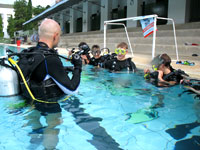 Thinking of getting certified for an upcoming vacation, but don't have the time to put into a regular diver course? Now there's a quick and easy program designed especially for you! This is your chance to slap on some fins, strap on a mask and experience an intense adventure in a short amount of time.

Discover Scuba DivingAs a subprogram of the PADI Open Water Diver program, the PADI Scuba Diver rating allows you to get certified quickly and easily by minimizing time constraints.

With a PADI Scuba Diver certification you can dive under the direct supervision of a PADI Divemaster, Assistant Instructor, Instructor or higher professional on your next vacation or dive trip.

After completing the Scuba Diver program, you'll want to continue your dive education and the PADI Open Water Diver certification to explore more dive opportunities.
Open Water Diver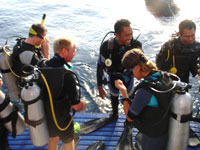 Open Water Diver courseNow is the time to dive into the PADI Open Water Diver course, the most popular dive program in the world!

As a certified PADI Open Water Diver, the most widely recognized and respected rating in the worlds, you have the freedom to dive with a buddy independent of a professional.

Throughout this course you'll learn all the fundamentals of Scuba Diving, including how to use scuba equipment and key dive techniques. You earn this rating by completing five knowledge development sessions plus pool dives and you will also make four open water (sea) dives.
Advanced Open Water Diver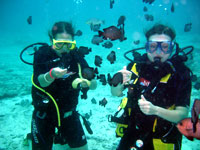 As part of the Adventures in Diving program, you can gain an Adventure Diver or Advanced Open Water Diver Certification.

Advanced Open Water Diver courseHave you always wanted to try underwater photography? How about wreck diving? Here's your chance because you can sample three dives of your choice, get a taste of what you like, and feel more comfortable in the water, strengthening your underwater skills and letting you enjoy diving more than ever.

Do three adventure dives and you earn the PADI Adventure Diver Certification. Add the Deep (up to 30m) and Underwater Navigation Adventure dives, then with these five you will earn the PADI Advanced Open Water Diver certification.
Emergency first Response (EFR)

Emergency First Response gives you the tools you need to perform CPR and First Aid. Whether you're a diver or a non-diver, Emergency First Response prepares you to properly handle potentially life-threatening situations. Rescue Diver

Rescue Diver training will prepare you to prevent problems and, if necessary, manage dive emergencies. During the five open water session, you'll cover
Self-rescue and diver stress
Dive first aid
Emergency management and equipment
Swimming and non-swimming assists
Panicked diver response
Underwater problems
Missing diver procedures
Surfacing the unconscious diver
Inwater artificial respiration
Egress (rescue exits)
First Aid procedures for pressure related accidents
Dive accident scenarios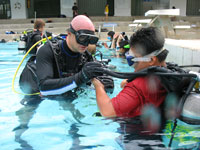 PADI Divemaster

Take the first step in your dive career and become a PADI Pro. Working closely with a PADI Instructor, you'll expand your dive knowledge and hone your skills, as you become a PADI Dive Professional.

PADI Divemaster training develops your leadership abilities by training you to supervisor dive activities and assist instructors with student divers.