Coral Island + Racha Island by Yacht
The Yachting: Nice Route to Nice Island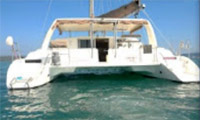 The full day yachting to the near island for Sightseeing, Snorkeling and Fishing.

The Yachting Route which is agreed for boat tourists is Coral Island and continuing to Racha Island (or Raya Island is the Same place) is the best one of Phuket with 2 easy reasons.

1. The route for Yacht Cruising must not be too far and be beautiful sightseeing, passing so many beautiful islands. This is corrected to this program, Raya Island and Coral Island way passing many small islands with a very nice landscape along the way.
2. The Yachting must be stopped first half way for relaxing. This Yachting Route will stop at Coral Island for Snorkeling, Relaxing and Swimming on the beach before continuing the program to Racha Island.

What do we recommend: Read the program and see the highlight pictures carefully before submitting  the booking.

Catamaran Sailing Yacht with Motors.
The double hulls of a catamaran Yacht cruise as gently as the others, because such a style of this boat can pass the waves easily, not big Bumping to the big waves. This makes the passengers feel as comfortable as staying on the boat.

Coral Island + Racha Island.
Both Hay (Or Coral) Island and Racha (Or Raya) Island have world class reputations. They are not too far from Phuket Island. And on Hay Island with 2 beautiful beaches - One is for snorkeling, and the other is for Water Sport. And you can join both beaches.

Racha (Or Raya) Island has a stunning white sandy beach and so much clear water. The crystal clear water is great for snorkeling - there are many beautiful coral reefs around the island. This island is the dream destination for all tourists  around the world.
Itinerary
| | |
| --- | --- |
| 07:00 AM: | The minibus of ExcursionsPro picks up from every hotel on Phuket Island (No extra charge at all). The minibus take you directly to the Chalong Jetty (Private Area for Yacht) |
| 08:00 AM: | After the tour guide briefs the program, drinks hot tea or coffee. Getting inboard. Be ready to start to go to the sea. OK. Go on. |
| | The classic Cruising route pass Lone Island and the small 10 islets with a great sightseeing from the boat the the first near one - Coral Island. |
| 12:30 PM: | We go up to our Yacht. The boat starts to cruise, and lunch is served. Find a good corner or seats on the boat for nice sightseeing with lunch. We slowly ran to the most natural island of Phuket Andaman Sea - Racha Island. |
| 13:30 PM: | We arrived at Raya Island. Stop at Patok Beach which has a face power sandy beach. Very nice to roll on. You can play with the gentle waves, walk along the beach to discover Racha Island or do a nice snorkeling at the right side of the beach. And lay down on the beach to relax. |
| 15:30 PM: | Everyone back to the Yacht-Beautiful and Nice. The boat runs around Raya Island and stops at the most beautiful beach for snorkeling - Konkae Bay. |
| 16:30 PM: | We cruise to Lone Island at the Fishing spot. Everyone can try to do a good fishing on a good fishing point with the high standard fishing gears of the Yacht. |
| 18:30 PM: | The boat arrives at Chalong Bay: Yes, for sure everyone will be tired, but very high fun. |
| | Our Minibus transfers you back to your hotel. |
Price
| | |
| --- | --- |
| Adult | 2,900 Baht/Person |
| Child | 2,200 Baht/Person(4-10 Years) |
Book Now!!! Gets FREE of Charge Transfer in (Airport-Your Hotel)
Tour Includes
R/T Transfer from Hotel to the Pier.(No Extra Charge)
Lunch
Snorkeling Equipment
Fruits, Drinks
Tour Guide
Photographer Or VDO Maker.
Fishing Gears.
Insurance
What to bring
A set of clothes to change
Beach Towels, Slippers
Hats, Sunglasses and some money
Don't forget your camera