Ian Fleming had written the novel of James Bond. 007 is the code of the spy man of England. No.7 means the number of spies, 00 means under the eyes of the queen, this means the spy with the code 00 can kill everyone.

(The man with the golden gun), 007 James Bond Series 9 starred "Roger Moore" and directed by Hamington was produced by EON production. The main scene of this James Bond Movie is on "Koh Ta Poo"
In this Big James Bond's movie scene, Koh Ta Poo has been called "James Bond Island" since the year of 1974. If you book this tour package, we will take you to see every scene of the movie
Suwankhuha Cave Temple, or Monkey Temple cave comes to be a very important point for tourists who have taken this tour package.
Go to visit a very nice scene from the movie picture, we used the private long tail boat from the local people; you will get more of the beauty of nature.
We stop to have lunch at the Floating Village "Panyee Island or Muslim Village" But some call it "Fishing Village".
We visit and discover every set of James Bond 007 scenes before going back to Phuket.
Stop to do the Sea Kayaking at the Floating Platform on the sea, and discover the sea caves, limestone cave, mangrove safari and hidden lake in the mountain.
Brief Programs
| | |
| --- | --- |
| 10:00 AM: | Pick Up from every hotel in Phuket |
| 11:00 AM: | Arrival Wonderful Golden Monk Cave, discover the cave and enjoy with a hundred Safari Monkey from the mountain. |
| 12:00 PM: | The local Boat takes you to the Mangrove Safari pass "Majoo Island, and Tamlod Mountain to Fishing Village or Floating Village". |
| 13:00 PM: | Lunch served at the floating Restaurant. |
| | Kayaking at Talu Island. |
| 14:00 PM: | Tour guides take you walk and look around the Floating Village before leaving them to hide. |
| 15:00 PM: | James Bond Island (007 the man with the golden gun) Action, Discovery, take a photo or let your heart guide you. |
| 16:30 PM: | We take the boat back to the pier and continue by Air-Condition bus to Phuket. |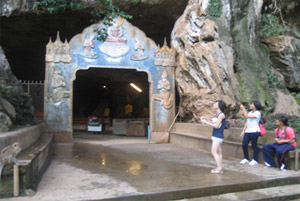 This trip is a Private Package, The time to pick up or back can be flexibility upon your consideration.
Price
| | |
| --- | --- |
| 2-3 People | 3,800 Baht/Person |
| 4 People Up | 2,900 Baht/Person |
Book Now!!! Gets FREE of Charge Transfer in (Airport-Your Hotel)
Tour Includes:
Private Air-Condition Mini Bus
Soft Drinks, Snack and Fruits all the time
Main Lunch (Sea Food) on Floating Village(Halal or Vegetarian  food on your request)
Insurance (Accident Only)
Private Local Boat
Great, High level service mind Tour Guide & Paddle Guide
What to bring:
Shorts & light T-shirt
Sun block
Sun cap
Sun glasses
Camera
Lots of smiles