Stand alone Living on Local Island of Phuket Island;
3 Days 2 Nights Top Value + Deepest Meaning Package.
The highest dreams of the people, who love to stay on the Island, always need a real feeling of the Island which they never found. Because of all the popular islands – Phuket Island, Samui Island, Chang Island, Singapore Island, Hong Kong Island etc - never give the emotion of the Island staying. They are just crowded Island Town.

"A small stand alone Island with just local people, the surrounding of the Island is covered by the sea nature and tropical garden, there is a very nice peaceful beach and there is only one beautiful resort on the beach" It is just 15 Minutes by Boat far from Phuket Island.

This package can make your dream-Staying on a lonely Island with someone as special - come true.
Khai Island is the heaven of snorkeling lovers. It will be a great highlight of your moment in this special time (Having Holiday in Phuket)
Spa Treatment at "our resort is world class." Place, Products, therapist and Emotion.
Our private Dinner will take place on the beach or under candle light near your villa (Depend on your request.)
In the package, you can play our sports; Kayaking, Sailing and Bike Cycling as free of charge. Because they are included in this Top Package already.
We can guarantee that the location of the resort on our Island can make your time to be the top value of Holiday.
We used the Private Pool Villa to service your special time holiday on the Island to make sure that you will never miss hope with this package.
Brief Programs
Day 1

Pick Up from the Airport to the "Lamhin Pier, take the boat to Coconut Island.

Check In at the Resort on the Island (Coconut Island Resort)

Free and Easy at a very nice "Private Pool Villa, Swimming on our private Beach on the Island, relaxing or walking around the Resort and the Island for exercise –all the big area of this beautiful resort has been decorated by a full of tropical garden, make you feel like a walking amid the beautiful safari.

Dinner will be served at the Resort Restaurant.

Day 2

Breakfast at the Hotel.

Our staff pick up Snorkeling at "Khai Nok and Khai Nai Island by speed boat." (Private Trip)

Before Dinner, do the "Spa treatment at the Spa Center of the Resort.

Dinner will be served at your private villa.

Day 3

Breakfast

Free & Easy at your villa.

Our staff picks you up from the Resort; take the Resort's Boat back to the Pier.

And the private car will pick you up heading to the Airport.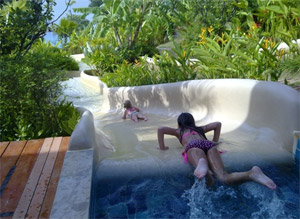 Price(Private Trip)
65,000 Baht/Couple
Extra People in the Villa will be 15,000 Baht/Person.

** Make the booking Now - 15 October for any time using, get the special Price is just
     - 59,000 Baht/person
Tour Includes:
Coconut Village Island Resort (Pool Villa with Grand Sea View)
Snorkeling as Private "Speed Boat pick up from the beach of Resort and drop off.
Spa treatment 2.5 Hours
Sport Activities
Round Trip transfer from Airport by Private VIP Minibus or Mercedes Benz to the Pier and Boat to the Island.
All Meals (2 Breakfast, 2 Lunches, 2 Dinners)(Halal or Vegetarian food on your request)