Playing to the Nature is a great way to recharge the battery yourself. Finding out the great friendship in Nature nowadays, is not an easy thing to do in every Big City, especially in Phuket, Krabi or Phang Nga.

ExcursionsPro Phuket had tried very hard to find out and select the real virgin nature places to be a great day trip of the Nature.

On this day trip; The activities of nature fun- is the one we can guarantee that you will never miss hope, if you are the one of nature discovery lovers.

The following are the Highlight pictures and brief detail.
Start to see the beauty of Nature by Mini Jungle Walk up to the Mountain Safari.
Stop to play with the nature (Swimming or Jumping on the Lake of Virgin Waterfall)
Hot Coffee made by Nature will be served at the Lake of Waterfall, after you have got cool from Water Swimming. (Nature is all around).
Tubing Training and briefing is starting; The Tubing Master will explain to you all details about how to use the Tubs. (The Nature is all around)
We are launching the game carefully, before faster, faster and faster at the end. (The nature is all around)
The time of the new Discovery is starting. It is a great fun and adventure on the fast water river. (The Nature is all around).
We serve Lunch at the Restaurant on the Nature Lake water. (The nature is all around)
Our Bungalow Rooms are located on Lotus Lake. It is surrounded by the Nature.
The Resort's location is real nature. This place can make you feel refreshed.
Elephant Trekking: We do the trek on the great route of Elephant Trekking. It passes Safari, Mountain and River. (The nature is all around)
ATV Riding at Song-Prak is the best route and our staff will train very well before letting you drive yourself. (The nature is all around)
Relaxing with nature along the Nature River with the Bamboo Rafting and stopping for swimming on the way.
Brief Programs
Day 1
10:00 AM:

Pick up from the hotel at Phuket, Krabi or Khao Lak.

11:10 AM:

Arrival Kampong Safari National Park
Start to do the Trekking up to the Hill to see the virgin Waterfall amid the safari.

12:00 PM:

Break up at the Waterfall Lake. We served the Bamboo Nature Cup of coffee.

12:45 PM:

Fit up the "Tubing Equipment" and Briefing from the Tubing Master for a safe and fun style. Start to play with the nature-Tubing Cruising to the Fast Nature River.

14:00 PM:

After we arrived at the last station of the Tubing, we serve the Lunch at "Kapong Garden Resort Restaurant.

15:00 PM:

Check In and Live your "Overnight time with the Nature around."
Day 2
| | |
| --- | --- |
| 08:00 AM: | Breakfast |
| 10:00 AM: | Check Out and we depart from Kapong to "Song-Prak RiverSide" -the best point for Elephant Trekking and the Great Route for ATV. |
| 10:30 AM: | Start to do ATV for 45 Minutes with the Nature is all around the Nature River and Mountain Safari Road. |
| 11:30 PM: | We arrived at Elephant Trekking Camp. Start to trek by Elephant on the Nature all around route. |
| 13:00 PM: | We arrived at the "Bamboo Rafting Station. The Lunch will be served at the Nature Restaurant. |
| 14:30 PM: | Cruise the bamboo Rafting along the slow steam which is all around the nature covered. |
| 15:30 PM: | We are on the way back to the Hotel in Phuket. |
Price(Private Trip)
| | |
| --- | --- |
| 9,600 Baht/Person | (Minimum Booking 2 People and Maximum 8 People) |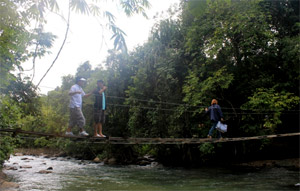 ** Make the booking Now - 30 November for any time using, get the special Price is just
    -  7,900 Baht/person
Book Now!!! Gets FREE of Charge Transfer in (Airport-Your Hotel)
Tour Includes:
Pick up and Drop Off from your hotel at Phuket, Khao  Lak or Krabi.
Accommodation ; Bungalow on the Lake (The nature is all around)
Private Car of Mini-Bus
Private English Tour Guide.
Meals: Lunch-Dinner-Breakfast-Lunch(Halal or Vegetarian food on your request)
Soft Drinks for all the time.
Insurance