The PP Island Day tour
is very popular for the tourists in Phuket at the moment, but there are some different favorites to do this great trip.
We are willing to give you more detail about PP Island tour Packages as the following.
What is another choice? The best Day Trip.

Private Premium Day Trip of PP Island by Speedboat
PP Island + Maya Bay + Monkey Beach + Lantee Beach + Lam-Tong, + Bamboo Island by speed boat
Height Standard Speed boat with 2 engines
The capacity of Speed boat at 28 People, but this trip is just your private group.
By doing this you can always get a good seat and save.
By this limited, you do not have to wait the other too many people and too long
By this limited, you do not have to hurry back to the boat, you can enjoy snorkeling and swimming longer
By this our tour guide can take you to more beautiful place - Lantee Beach, Lam-tong etc.-without crowded
By this VIP Trip, we serve all time Fruits, Snacks and Soft Drinks (Coke, Orange juice, Fresh Water)
By this Premier trip, we have prepared bananas, breads for the fish. To make sure that you can touch and feed the marine life closer.
By Top VIP Class, we serve you a great Buffet Lunch at Holiday In Hotel Restaurant (On Lam-Tong Beach)
With limited passengers, we set up for you with a full of high standard Snorkeling Gears as well as the Flippers.
By this Upper Class Package, we have prepared a high expert Caption, Crews and High special English Tour Guide.
By this Top Day trip, our tour guide can control the caption to stop the boat to see when we pass some giant marine life, such as Dolphins, Big Sea turtles or Sharks
By this only, it can make you get "Real Feeling of Sea Snorkeling"
However, before submitting the booking, please see all details of the programs and highlight pictures, to make sure that you have booked the right one.
Maya Bay is the point of "Movie the beach"
shooting; we do this trip by park on Maya Bay at the period of Empty Hour (We go when the other is back or we go before the other arrival.) This Top Class makes you have more time to discover the Beach.
Loh-Sama Bay and Pele Cove
are the most important parts of the beach scene; the water is clear like a jade mirror. Underwater of this area can be seen from the boat, many kinds of Coral Reef and Fishes.
Viking Cave;
the place for the ship of the pirate used to be hidden in the past, but now it has become the place for birds. Good bird's nest can be found here. Many people take the bird nest to be a luxury meal of Chinese
Monkey Beach;
the great thick safari meets the nice beach, but the people are always having fun with the Real thick Safari Monkeys. They come to find something to eat on the beach.
We serve the
Buffet lunch at the restaurant on Lam-Tong beach
, the place which you can walk around or do snorkeling from the Beach.
Bamboo Island;
the one which is just for this Top Package only takes the guest to do snorkeling around the Island, Nice beach, many fishes, many Coral reef and non-crowded.
The shark Point;
that you can see the shark just by snorkeling (No need to be Divers)
Yoong Island or Mosquito Island
is the hidden beautiful place where the Snorkeling Trip starts from PP Island and can only take you here.
Hin-Klang
is the Coral Mountain under the water, it is a great spot for millions of Marine life. And yes, for sure a great place for snorkeling as well.
Nui Beach at Camel Rock
, we guarantee to you that our premium trip only can take you to touch this hidden beach.
Brief Programs
08:00 AM:
High Roof Minibus Pick you up from every hotel.
08:30 AM:
We arrived at the Boat Lagoon Marina (World Class Marina of Phuket). We warm the body by Coffee, Tea with a Snack. And fits the Snorkeling Gears.
09:00 AM:
Leave from the Marina, heading to Maya Bay
10:30: AM:
We start to discover the Beach Film Beach, our speed boat park on the Beach. Let you have plenty of time to enjoy the "Maya Bay" Afterward we continue to do the snorkeling at Pele Cove and Loh Samah Bay. Discovery the Monkey beach and see the nice point of Viking Cave.
12:00: PM:
We start to play with Nemo, Lampard or Turtle at Lantee Beach. Great Snorkeling around here.
13:30 PM:
Time for lunch at "Holiday Inn Restaurant on the beach" after finishing the great lunch, you walk along Lam-Tong Beach to discover the quiet Beach (There are only a few resorts around here) . Someone who likes to do swimming or snorkeling on the beach is perfect as well.
15:00: PM:
Bamboo Island; Abandon Island surrounded with a nice sandy beach. Non-crowded that make easier for you to see the strange fishes. The coral Reef still a very nice and undestroyed situation around the Island.
16:30: PM:
we leave from Bamboo Island and arrive at the Boat Lagoon Marina.
You should arrive at your hotel in Phuket at not over 18:30 PM.
| | |
| --- | --- |
| | |
See you in, we look forward to giving you the unforgettable experience in Phuket.
Price for Private Trip
Minimum 2 person
17,500 Baht/person
3 - 4 person
15,000 Baht/person
5 - 6 person
10,000 Baht/person
7 person up
6,500 Baht/person

Minimum: The Private Trip will be Minimum at 2 Guests/Day. The Company will be subject to.
---
Price for Join Trip
Adult
3,900 Baht/person
Child
2,900 Baht/person

Maximum: The Join Trip will be Maximum at 16 Guests/Day. The Company will be subject to.
---
Book Now!!! Gets FREE of Charge Transfer in (Airport-Your Hotel)
Price includes:
Round Trip Land Transfer (Pick UP from the Hotel and Drop Off)
Full set of Snorkeling Gears (Marks, Snorkel and Fins)
All the Time Soft Drinks and Snack
Banana, Bread for Fishes Feeding
High Expert Tour Guide
Buffet Lunch(Halal or Vegetarian  food on your request)
Insurance
What to bring:
Swimming Suits
Shorts & light T-shirt
Beach towel
Sun block
Sun cap
Sunglasses
Camera
Lots of smiles
Notice: Our trips are not recommended for pregnant women.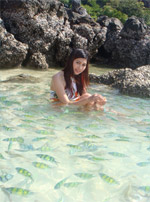 Remarks: The cancellation booking can be done automatically in the case of very bad weather.