Koh Lipe or Lipe Island is the real valued New Destination concerning the tourism place of Thailand at the moment. The beautiful nature of the Island which was hidden from the world's eyes for a long time has a very high attraction. The 3 white sandy beaches on the Island, The virgin air under the sun, and the beautiful clear blue of sea water are the high power machines to attract the people around the world to come here. But, to go to Lipe Island is not easy like other tourist places like Phuket, Krabi, Bangkok etc. The high professional tour provider only can arrange the package to visit there.

Excursions Pro has so many branches around the Island as well as on Lipe Island. So, we are considering making a very nice and comfortable Package to invite all the people to visit this "Hidden Virgin Island- Koh Lipe."

3 Days 2 Nights Lipe Island Programs and the Highlight Pictures which is included in the Itinerary have shown bellowing:
You will meet with the real free Sandy Beach on Lipe Island; Sand is look like a white powder, water is clear like a mirror and the air is very fresh (No any pollution)
It is much more beautiful than words, you can see it just here, Lipe Island.
Snorkeling at Adang, Ravi Islet makes you enjoy the sea more.
Jabang Island, the small Island located near Lipe Island, our package will stop this Island for snorkeling to see shallow Coral Reef and Marine Life.
Sumpass Tale Resort; the resort in our package is just the only one that has a nice swimming pool on the beach. As well as our bungalow style room with 24 Hours Electric and Air-Condition.
If you are crazy about snorkeling (Love to snorkel very much), you can do it all the time just in front of the hotel, 2 or 3 Kilometers from the beach, you still can see the bottom of the sea.
Brief Programs
Day 1
| | |
| --- | --- |
| 11:00 AM: | Pick up from your hotel in HatYai, Trang Province or from HatYai Airport or from Trang Airport. We continue to "Pakbara Pier" |
| 14:00 PM: | Arrival Pakbara Pier, check in the Boat Ticket by Jc.Tour Staff. |
| 14:30 PM: | We leave to Koh Lipe. |
| 16:00 PM: | Arrival Lipe Island, and Check in at On the beach Resort "Sumpathtale Resort" |
| 18:00 PM: | Dinner was served. |
| 19:00 PM: | Use your leisure with Ocean Atmosphere or strolling along the beach to "Koh Lipe Walking Street." |
Day 2
| | |
| --- | --- |
| 08:00 AM: | Breakfast |
| 09:00 AM: | Take the trip to Snorkeling around the islets; Koh Hin-Ngam, Koh Jabang, Koh Adang and Koh Ravi. Use your full day time with Snorkeling and beautiful places on those Islands. |
| 16:00 PM: | Back to Lipe Island. It is your leisure time around the Island. |
| 18:30 PM: | Dinner Time |
Day 3
| | |
| --- | --- |
| 07:30 AM: | Breakfast |
| 09:00 AM: | Check Out and take the speed boat back to "Pakbara Pier |
| 11:00 AM: | Our private Minibus picks you up back to your hotel or Airport. |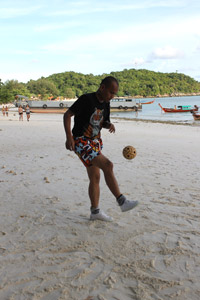 Price(Private Trip)
15,700 Baht/Person (Minimum 2 People Booking)
Book Now!!! Gets FREE of Charge Transfer in (Airport-Your Hotel)
Tour Includes:
R/T transfer from Hat Yai , Trang Province or Trang Airport and Hat Yai Airport
2 Nights Accommodation on "Sumpath tale Resort"
R/T transfer Speed Boat or Ferry from and to the Island
English Tour Guide (24 Hours Service)
All Meals (2 Breakfast, 2 Lunches and 2 Dinners)(Halal or Vegetarian food on your request)
Snorkeling Equipment on Snorkeling Day
Insurance