This is tour phuket, phuket tour and tour from Phuket: Safari Phuket, Phuket Safari, Tour Safari at Phuket, the best phuket safari tour!
The trip provides for any tourist who loves to use a day of whole holiday time visiting the safari place. This excursion takes you to visit The Waterfall which is hidden in the safari, The Trekking Route passes the point called The Sea meet Safari and The Nature River along the Safari is full of Wildlife.

The following is the program and the highlight pictures: Please read and see all of them before submitting  the booking.
The most beautiful and real nature Waterfall - Lam Pee Waterfall. It is hidden in the thick safari away from the crowd. The lake has very nice clear sweetwater, it is great for swimming. The Waterfall is full of nature life, a hundred kinds of hard to see trees.
The great view of Khao Lak Beach can be seen just from this restaurant – Moun-Lai Restaurant. We serve the Thai Set Menu Lunch here. Having lunch on the point of great view.
Short Jungle Trek on the route between the sea and mountain. We go to see the million kinds of trees, Wildlife and the end of this Jungle Walking is a nice abandoned beach in the mountain. There is no crowd on this safari beach. It is very hard to find it out. But on this trip, for sure you will meet "this unseen beach."
The last point, but very amazing. The Little Amazon is the nature river pass the thick safari makes the River Safari. The trip offers canoeing with a nice paddle guide that takes you to discover along the canal and see many kinds of wildlife.
The trip offers the Safari Discovery around 2 Provinces, Phuket and Phang Nga Province.
There are 3 things to do concern the Phuket Safari Concern are
The Khao Lak Nature Safari Trek.
Visit the waterfall in the nature of thick Safari.
Discovery to see the Safari Animal Along the "Little Amazon River" of Ta-Kou Pa District- Phang Nga Province.
Brief Programs
| | |
| --- | --- |
| 08:30 AM: | Pick up from every hotel in Phuket (No extra charge) The car runs fast past the Sarasin Bridge (It is connected between the Mainland and Phuket Island) directly to Phang Nga Province. |
| 10:00 AM: | The sun is getting quite hot. We visited the most beautiful and real nature waterfall of Phang Nga Province- Lumpee Waterfall. The tour guide guides you to see the nature around the area as well as jump down into the waterfall, if you like. |
| 11:00 AM: | We leave from the Waterfall to start catching up "Safari Trekking" from Khao Lak Lumloo National Park passing to Hat Lek (Lek Beach.) This route leads you to see a hundred kids of biggest aged over 100 years trees, Animals, Safari Vines etc...(A lot of things concerns safari) |
| 12:00 PM: | We arrive at Lek Beach, the nice small beach which is hidden in the mountain at the point "where the jungle meets the sea." Non-Crowded at all. |
| 13:00 PM: | We served Lunch at the Restaurant with the best of the best sea view of Khao Lak. (The really nice view of khao lak Beach, every tourist said" ) named "Moun Lai Restaurant. |
| 13:30 PM: | We leave from the restaurant to Jungle life along the Safari River called "Little Amazon Safari." We must get into the atmosphere of Amazon. |
| 14:20 PM: | The Canoe Boat with the paddle guide (2 Passenger Maximum with one Paddle guide) Take you along the safari river, you can see animals, Birds, Snakes (hahaha) Monkeys, Gibbons, Varanus bengalensis etc.. |
| 16:00 PM: | We leave Amazon back to Phuket. |
| 17:30 PM: | Arrival at the Hotel. |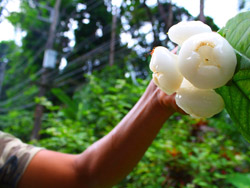 Price
| | |
| --- | --- |
| Adults: | 4,800 Baht/Person (Minimum 2 people booking) |
| Child: | 3,600 Baht/Person ( 3-12 years old) |
Book Now!!! Gets FREE of Charge Transfer in (Airport-Your Hotel)
Tour Includes:
Transportation both ways (Hotel-Trip-Hotel)
All Safari or National Park Fee (The place in the Program)
All equipment for Canoeing with Paddle Guide along the Little Amazon River.
Soft Drinks (Drinking Water, Coke, Fanta) will be served all the time.
English Tour Guide
Accident Insurance
What to bring:
Swimming suite
Dry clothes
Beach towel
Sun block lotion
Sun cap, sun glasses
Walking shoes
Camera
Lot of smile