Rung Island Tour Program is suitable for any one who needs to be hidden into nature for one day. Rung Island or in the other name Pearl Island is the Private Island. And they permit only 100 People to get in per day.

That makes sure you will never meet the crowd. And the nature on the Island is looked after as a complete situation. Great place for swimming, sun bathing, Relaxing or walking around to see nature.
Empty Beach, always in every season.

The beach on Pearl Island is empty 12 Hours because of limited people getting in. It becomes to be the great place for playing on the sand of every one, someone swimming, some one practice to paddle canoeing around the beach and someone laying down on the beach.

There is a small Bar and restaurant on the beach (Thay you may need to buy a drink or special food.)
You can use the beach for privacy.

By the limited number of people touring this island, you will see no people on the beach. Every moment you are on the Island, you feel like all the things on the Island - Coconut Garden, Tropical Safari, 2 Beaches, Rest Room, Small Restaurant and Bar are private for your team only.

If you love to sink into the real private nature, yes this is.
Snorkeling:

Outer of Rung Island: We take you to do the snorkeling at Nui Island. It is the limestone Mountain, surrounded by the coral reef under the water. There are a million kinds of marine life living and breeding in the area.

We will stop at Koh Nui for snorkeling at the prime time, before the other tourists reach there. To make sure that you get a feeling of Privacy.
Brief Programs
08:00 AM:

Private Minibus Pick you up from Every hotel in Phuket.

08:30 AM:

When we arrive at the Boat Lagoon Marina, Warm your body by Hot-Coffee or Tea. Fit your equipment for snorkeling.

09:00 AM:

We leave from the Boat Lagoon Marina to Nui Island for Snorkeling. A really great place for seeing marine life on the Andaman Sea.

10:30 AM:

We leave from Nui Island to Rung Island.

On Rung or Pearl Island. Relaxing on the private Beach Chairs, Relaxing on the beach, Walking around the beach, walking around the Island, Discovery the Safari animal on the Island, Swimming, Bike Cycling or Kayaking on the sea near the beach.

13:00 PM:

We serve Lunch on the Island.

14:40 PM:

More Relaxing on the Island.

15:00 PM:

We return to Phuket.

15:30 PM:

We return back to your hotel.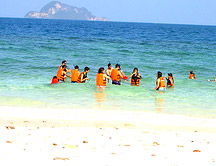 Price
3,600 Baht/Person (Minimum 2 People Booking)
Book Now!!! and you can Gets FREE of Charge Transfer in (Airport-Your Hotel)
Tour Includes:
Private Pick Up and Drop Off Every Hotel in Phuket.
Tour Guide
Soft Drinks (Drinking Water, Coke, Fanta) Service for all the time.
Season Fruits
Lunch (Set Menu for 5 Dishes)
All Equipment for Snorkeling
Beach Chair
Tour Guide
200,000 Baht/Person for Accident Insurance