King & Eggs Islands: (Private Trip)
The best day trip for Family: A very privacy tour Package
The King Island is in the other name is Racha (Racha means King in Thai) Island. And some local people called Raya. But the name is not the main reason for the tourists to visit this Island, the people visit this place because of "The water is clear like a mirror, the sand is filled white like a face powder, and the million kinds of fishes and Coral reef surrounding the island is the main.

Eggs Island is the group of 3 Islands; Khai Nai, Khai Nok and Khai Nui (Khai in Thai is meaning Egg in English) If the parents need their kids to touch the marine life, the eggs Island is the place. The Islands are the dream of the children, because the kids can play with a million kinds of colorful fishes and coral reefs as if they were just playing on the beach. (No need to swim out to the water.)

For adults (who love marine life and Sea Day Time) and for all the children, we offer this special package: Please see the highlight pictures in the package, the details and price, before submitting the booking.
| | |
| --- | --- |
| | |
At King Island (The Racha), we can say that "there is only one Island left which can guarantee that 95% completed Nature." Around the Island will be full of the coral reef, fishes and the other marine life. It can make you get the real heaven of a Snorkeling tour.
The sand on King Island is filled like face powder. This can make you get the real heaven of Sandy Beach Relaxing.
If you are the people who love the Island hopping Tour, this King Island is the place you are looking for. And yes, this private package only can fulfill your dream.
The Egg Islands: there are 3 eggs (Khai) Island on the Khai Island Group-Khai Nai, Khai Nok and Khai Nui. All of them will be the best area for shallow water coral reefs.
The Egg Islands or Kho Khai: Just take a seat on the beach, you can play with a thousand colorful fishes, and if you just walk a little out to the sea, you can touch a beautiful coral reef and more bigger fishes.
The Eggs or Khai Islands Group is the "Real Heaven of the Children" For sure that they will be happy with the sandy beach and fishes, coral reef, shallow snorkeling & Swimming.
Our high standard system and new modern Speed Boat can service you to meet the paradise of Ocean World as smoothly.
Brief Programs(Private Trip)
| | |
| --- | --- |
| 06:30 AM: | Our private car picks your team from every hotel in Phuket. |
| 07:00 AM: | We arrived at "Boat Lagoon International Marina" Our private Pier. |
| 07:30 AM: | We needed to reach Khai Island before the other, so we departed quite early. |
| 08:00 AM: | Enjoy very much "Enjoy very much with the empty beach,(not crowded) and swimming & playing with the fishes as freely on Khai Nok, Khai Nai and Khai Noi Island. |
| 11:00 AM: | We departed from Khai Island groups, directly to The King Island (Racha) |
| 12:00 PM: | Arriving at the "Patok Island of Racha Island." Enjoy a nice sandy beach and look around the area before having lunch at the beach restaurant. |
| 13:30 PM: | Our tour guide will lead you to walk past the Island to the other side-Patok Island for great snorkeling. |
| 15:30 PM: | We depart from Racha Island to "Boat Lagoon Marina" |
| 16:30 PM: | After sip the kool goodbye drink, our private minibus will transfer you back to your hotel. |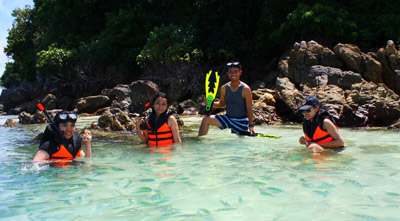 Price (Private Trip Only)
| | |
| --- | --- |
| 2-3 People Group: | 12,500 Baht/Person |
| 4-6 People Group: | 8,000 Baht/Person |
| 7-10 People Group: | 4,600 Baht/Person |
| 11-15 People Group: | 3,500 Baht/Person. |
Tour Includes:
Private Speed Boat
Private Land Transfer (Hotel-Pier-Hotel)
Private Tour Guide
Full Soft Drinks, Snack and Fruits
Full Set of Snorkeling Equipment (Mask & Snorkel)
Insurance
Buffet Lunch(Halal or Vegetarian food on your request)
What to bring:
Swimming Suits
Shorts & light T-shirt
Beach towel
Sun block
Sun cap
Sunglasses
Camera
Lots of smiles