Make the normal time to be the wonderful time of holiday time in Phuket. Go out to visit the private island at the afternoon time, and having dinner on the beach at the same time of sunset.

Koh Naka Noi is the nice small island, it is not far a way from Phuket. But the nature around is very nice, you can do both beach snorkeling, beach swimming or relaxing on the beach in this special hours.

ExcursionsPro Phuket (Only) had set up this special program for some one may need make the normal time of holiday in Phuket to be the wonderful time.

We recommend to see all the highlight pictures with the detail as well as reading all the program, before submit the booking. However, if you need more detail just call or what app to +66895727603 (This number is 24 hours service, just call.)
On Nakha Noi Island, you can do discovery both on the completed green on the Island or on the beautiful sandy beach, as well as you can swim or do the snorkeling to see the nice coral reef. Just next from the beach. "We guarantee this moment can be your real special moment in holiday time"
At the sunset time, our staff set up the special dinning table on the beach. And the BBQ Seafood is served at starting from 18:00 PM. "Having dinner on the beach at the sunset time."
Itinerary
| | |
| --- | --- |
| 14:00 PM: | Private of our Minibus picks up from your hotel (Every where, no extra charge) in Phuket. And run to the pier. |
| 15:00 PM: | The private speed boat of ExcursionsPro takes you from the pier to the Island: |
| 15:20 PM: | Arrival the Naka Noi Island. Welcome Drinks by A young coconut. |
| 16:00 PM: | Snorkeling, Swimming, Discovering, or Relaxing on the island. |
| 17:30 PM: | The BBQ Dinner Table (Special) set up on the Beach. |
| 18:00 PM: | Having dinner as the sun is going down. (Beautiful Sunset Moment) |
| 19:00 PM: | Take the speed boat back to Phuket |
| 19:15 PM: | The Private Minibus take you back to your hotel |
| 20:00 PM: | Arrival the hotel. |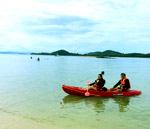 Private BBQ Includes:
Speed Boat as Private (R/T)
Snorkeling Gears
Soft Drinks all the time (Drinking Water, Coke, Fanta)
Dinner (Sea Food BBQ)
Private Land Transfer (Hotel - Pier)
English Tour Guide
Insurance
Price
Adult 3,500 Baht/Person
(Minimum 2 People Booking)
Child 2,500 Baht/Person
(Years 3-10 years old)
(Free for child below 3 years old)
Book Now!!! Gets FREE of Charge Transfer in (Airport-Your Hotel)
Private Transfer Round Trip from every hotel in Phuket.(No Extra charge)