Charter the long tail boat to visit Coral Island is a great Idea if you have not much time to join the trip with the other. Or you love to do an enjoyable snorkeling trip on the beautiful Island, and no need to go too far from the mainland. Or you love to keep the atmosphere of "Private, Easy and Funny" for your family, your friends, etc.

The best selection for sure is this. "Long Tail Boat Charter to Coral Island" The following is the highlight pictures:
Simple the highest Romantic, Take a nice long tail boat to the Beautiful Island - Coral Island. The island is located just 20 minutes away from the Land by Boat. Surrounding with a very nice beach and "Conservation Beach for Snorkeling and Relaxing only." (No Boat, and no other Marine Sport.)
Pay Less, and Get More, This trip is to pay not much for "Private Long Tail Boat" and get more beautiful places on the Island. The beach and snorkeling area is suitable for Family, Kids, or yours. (Clean and Empty Sandy Beach and the blue water is very clear.)
On Coral Island, You can choose to find a great Rock Corner to do Snorkeling, or Lay down on the white sandy beach or Do funny Water Sport (Optional) at the Sport Beach. Area of Sport.
Itinerary
The Long Tail Boat Charter to Coral Island is a Classic Private Trip which is for an easy day and nice. The program of the trip can be flexible and very easy. You can do just a morning half day or afternoon half day or "Full Day." is also the same superb. The brief Program:
- Pick Up from every hotel in Phuket (No Extra Charge) by Private Minibus.
- Arrive at the Pier at Rawai Beach. Set up and prepare the equipment for snorkeling.
- Leave from the Pier to the "Banana Beach.? (The conservation marine life area for snorkeling only)
- Discovery to the sports beach (The area for Water Sport) if you like it.
- Relaxing, Swimming, Snorkeling, Sun bathing etc... on the beach.
- Boat Back to the Pier and our Private Minibus transfer you back to the Hotel.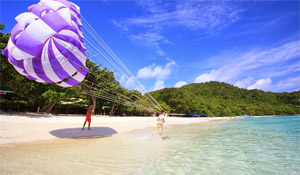 Price
6,500 Baht/Group (Not over 5 People):
Price Includes:
R/T transfer from your hotel in Phuket by private Minibus.
Soft Drinks (Drinking Water, Coke and Fanta)
Equipment for Snorkeling.
Insurance.