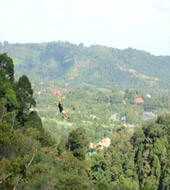 IMPORTANT
I strongly understand that I am not permitted to take part in FH activity if I have any of the following condition or injuries related :a. Pregnancy
b. Mental instability or illness
c. Diabetes
d. Epilepsy
e. Previous injury or operation on, lung, kidney, or liver
f. Any injury on back, hips, legs, knees, feet, shoulders, hands or neck

CAUTION
I hereby confirm that:
a. I have no condition, medical or injury that will put you and others at risk while participating in the FH activity
b. I am not under the influence of alcohol, and/or all types of drugs
c. I am in a fit condition to participate FH activity
d. I have a weight less than 120 Kg.

I here by release FH and its parent company, Skytrek Adventure Co.,Ltd.,from all claims, liability, actions, losses, expenses and costs (including without limitation, all medical or hospital, repatriation costs or any other costs incurred by personal injury) arising from or are incurred as a result of my participation in the Flying Hanuman activity, except any liability under law of The Kingdom of Thailand.

I acknowledge that FH is holding my agreement to the above terms as proof that I am fit and able to take part in their activity, thus indemnify Flying Hanuman and its parent company, Skytrek Adventures Co.,Ltd., against any losses, liability, claims, costs and expenses (including those made or incurred by any other person participating in the Flying Hanuman activity) incurred by Flying Hanuman or a rising from or as a result of my agreement not being correct or truthful.

Flying Hanuman does best for environment and we make our activity most secure to let everyone enjoy the wonderful experience without disturbing nature and having no worry on a trip. It is important to follow our procedures and policies as following:

DO :
Enjoy your activity onboard Keep your valuable belongings in locker, the company will take no responsibility of any damage or lost if you carry items on board. Listen to your guides at all times. Ask your guides for helps or needs

DON'T :
Donot litter during your play time. Look– Not touch / keep your hands and body away from plants and animals which maybe harmful. No smoking onboard. Do not jump from the Platform. Do not unclip the equipment by yourself while you are onboard.

*FH and its staffs reserve the right to deny any participant before and during the course upon security and/or safety risk reason.
**Insurance and medical assistance provided incase of injury or accident and emergency.

I acknowledge that FH is relying on the confirmation and undertaking set out in above mention paragraphs in taking myself on activity and I hereby indemnify FH against any lost, liability, claim, cost, and expense (including caused from any other participant as the same time onboard) incurred by FH, or a rise from, or as a result of, or in connection with my confirmation, or under taking not being correct.